How to Use Serums to Elevate Your Skincare Routine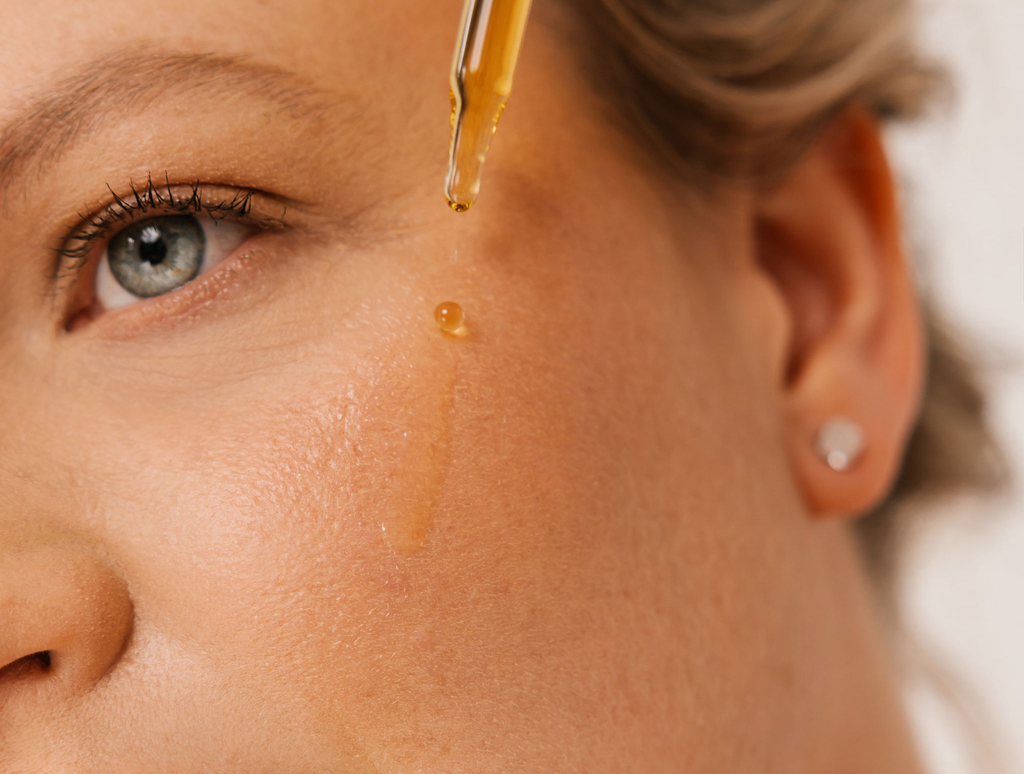 If you're new to the world of serums — welcome! These little beauties are hard-working and, depending on your skin goals, have very specific roles in skincare. For example, if you want to brighten and even out the texture of your skin, you may reach for a serum with Vitamin C. If you're looking to lock in moisture, you'd likely benefit from adding Hyaluronic Acid to your routine.
Not sure which serum to start with? In this post, we've broken down the ingredients, what they treat, and how to integrate them into your already-established skincare routine.
Let's get to the good stuff, shall we?
Eyes Up | The Caffeinated Eye Serum
First up, a cup of coffee in droplet form. Let's be honest, as we settle into the autumn season and all it brings with it — routines get busier and sleep gets scarcer. We can't feel bright-eyed and bushy-tailed all the time, but with a caffeinated eye serum, we can at least look the part! We've added prickly pear oil to this staple serum to help reduce puffiness, dark circles, and dark spots, and extra virgin sacha inchi oil to both soothe and smooth the skin.
How to add this serum to your routine: Eyes Up can be used to treat your under-eye area and areas of puffiness as needed or, you can also use it as a nourishing and repairing face serum in your day and/or night routine.
Lighten Up | The Skin Brightening Serum
This delectable mixture brightens skin by tackling discolouration and dullness—problems often associated with fall's transition to cooler weather. Colder temperatures make for drier weather, which leaves the skin feeling dull, tired, and unprotected. This lightweight serum uses calendula oil to combat dryness by hydrating and soothing, and pumpkin seed oil to nourish and protect skin cells. In return, this will restore your skin's natural glow.
How to add this serum to your routine: Lighten Up absorbs beautifully into your skin and can be used alone as a lightweight daytime moisturizer, or layered under a small amount of your moisturizer to lock in hydration.
Sweet Serum | The Luxurious Skin Serum
Have your skincare routine down pat, but looking for something to elevate your natural glow? We've created this concentrated blend of luxe oils to work together to combat dryness, tightness, and stretch marks—all in one beautiful little bottle. Infused with unrefined tamanu oil, its rich earthy scent will leave you feeling both comforted and refreshed.
How to add this serum to your routine: Apply a small amount 1-2 times per day, preferably on damp skin. Sweet Serum can also be used on growing bellies, old and new scars, and stretch marks and as a super-luxe facial oil.
Total Package | Vitamin C & Hyaluronic Acid Serum
Well, this one really speaks for itself, but we'll still break down the full package for you. This all-in-one serum smooths skin brightens complexion, reduces redness, improves elasticity and so much more. The vitamin C evens your skin tone and brightens your complexion, while the hyaluronic acid intensely hydrates, regenerating your skin's moisture barrier. It's the total package, all under one roof.
How to add this serum to your routine: After applying your cleanser and toner, apply 1-2 pumps of Total Package to the entire face and neck. After the serum sets, follow it up with moisturizer and your daily SPF.
There you have it, a bird's eye view of our four, superstar serums. Now you're ready to tackle all of your skincare goals, with your favourite blend in hand!