Winter skincare tips for your skin using a natural routine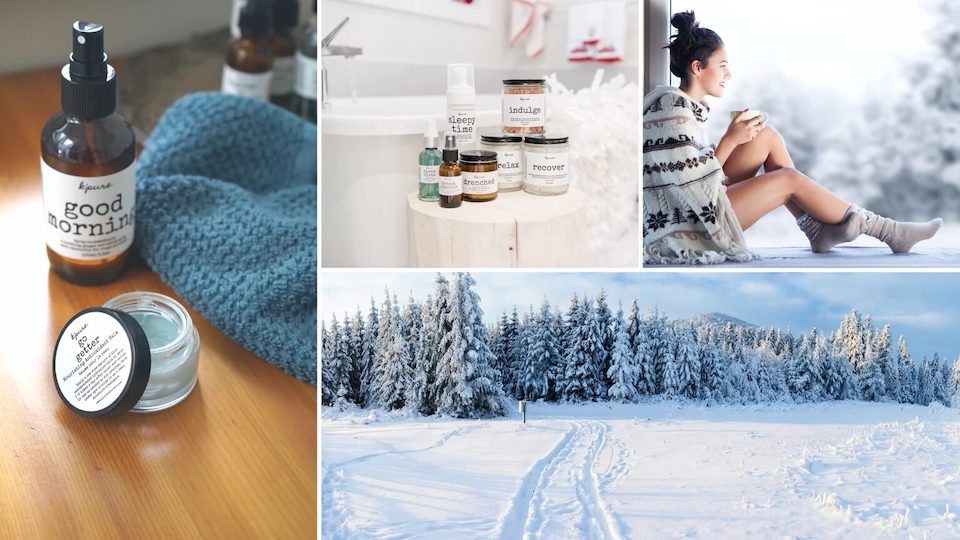 The colder weather is here, here are some skincare routine changes.
The cooler, drier air this time of the year, partnered with spending more time indoors (with the drying effects of indoor heating), means your skin is probably craving a little more moisture.
Like winter dressing (think layers), your skincare routine can also benefit from layers. At k'pure Naturals, we focus on simple products that give you deep moisture and healthy skin year-round. Our Winter Favourites collection offers the best product mix for the winter to keep your skin feeling great.
Winterize your skincare routine in five easy steps: 
Switch to an oil-based cleanser.
Because the weather is so drying right now, instead of removing oils from your skin as you're cleansing, use an oil-based cleanser to add them back. Clean Slate Oil Cleanser and Makeup Remover does it all—adds back moisture, and is also effective at gently removing every speck of makeup, even your waterproof mascara.
Gentle exfoliation.
You don't want an aggressive exfoliator in the winter, as it can aggravate skin that may already be sensitive because of environmental factors. However, exfoliation is excellent for removing a layer of dry, flaking skin cells, revealing a new layer beneath, and giving you a glowy look we all crave.
Once a week, try the Sugar Mama Ultra-Rich Moisturizing Scrub for your body and Perk Up Skin Polishing Oil for your face. Sugar Mama is packed with moisturizing shea butter and exfoliates with dead sea salt and sugar. Perk Up uses coffee grinds with organic pumpkin seed and pomegranate seed oil to hydrate, revealing bright, glowing skin.

Vitamin C.
Just like we often supplement with Vitamin C in the winter to help keep colds and flu at bay, Vitamin C is a powerful antioxidant for our skin. Lighten Up Brightening Serum is our best selling facial serum. It's oil-based, but not heavy, and loaded with Pumpkin Seed Oil, which is rich in Vitamins A, C and Zinc. These contribute to collagen synthesis and help to protect and repair your skin from sun damage. Use just a few drops daily after cleansing and toning, and you can also use a few drops for a hydrating organic hair serum.
Deeper hydration.
Now is the time to amp up your moisturizer, switching to a formula with more oils for deeper hydration. Go Getter contains Kukui Nut Oil, which absorbs quickly and deeply into the skin, and is proven to help prevent dryness. It's also free of any fillers or waxes so that a tiny bit will moisturize your entire face (don't forget your neck!). It also makes an excellent spot treatment for any areas of your face that need extra moisturizing, like under the eyes.
Don't forget your body, hands, feet and lips.
The more our skin is exposed to harsh, cold, outdoor air, the more treatment they will need. So use gloves to protect your hands, and slather on a moisturizing lip balm, like Smooch, formulated with moisturizing shea and cocoa seed butter.
While it may be tempting to take hot showers when it's cold out, they can have a drying effect on the skin, so take a more lukewarm shower, and slather yourself up with Drenched while your skin is still damp for the best moisturizing effect. It's super-rich, but its whipped texture means it goes on quickly and feels so luxurious. It also smells fantastic. You can use it on your face as a deeper moisturizer as well.
It's not hard to avoid common winter skin issues like chapped skin, dry red patches, or flakiness. Just layer up your skincare, drink lots of water, and amp up the moisture to get glowing, soft winter skin!